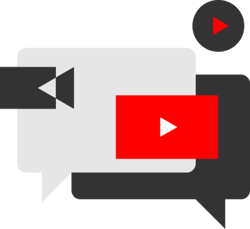 Two main reasons are audience and algorithm.
Facebook has a huge audience that's engaged in video content consumption
At more than two billion users, Facebook is used by almost one-third of the world's population and users spend more than 100 million hours per day watching videos on the platform -- almost as much as Netflix.
The Facebook algorithm that dictates what content is served up in users News Feed heavily favors live video content
Data from Facebook has shown that people comment 10x more on Facebook live videos than regular videos. An excellent tool to engage and grow your audience. They are simple to produce using Facebook live or by recording on your smartphone and there are many free editing software options available.
Focus on the right metrics when you publish your video content to learn what works best in engaging your audience. There are many Facebook video metrics available as you navigate to the Insights tab on your Facebook page, but these 5 are most important to measure:
Reach
Reach represents how many users saw your video on Facebook. Since Facebook switched to an algorithm-based News Feed, reach has become more important than ever. If a lot of users are engaging with your videos they are more likely to surface to users unfamiliar with your content.
Since Facebook started down-rating posts from brands and publishers in the News Feed, make sure you're optimizing your organic reach by posting on Facebook no more than three times per day.
10 Second Views
This metric is the number of users who watched your video for 10 seconds or more - a meaningful amount of time to view.
View Rate
View rate indicates how many users watched your video out of the number of users who saw it. It gauges how your video content is resonating with your audience. This metric is not provided by Facebook, but is calculated by dividing the number of video views by the total reach.
Shares
Shares is another metric of relevancy to your audience. And, as a bonus, this engagement earns you more organic reach as users share your content with their circles.
Average Watch Time
This metric tells you how engaging your video is. It is calculated by dividing the total minutes viewed of your video by the number of video views. Average watch time is also important for earning greater organic reach.
The size of audience that Facebook now reaches is just mind boggling at one-third of the worlds population. And, since users are watching Facebook videos and News Feed heavily favors video content, it makes sense to prioritize this in your marketing plans. Be sure to focus on the 5 metrics above to test and tweak your Facebook video content and learn what works best to engage your audience.
If you would like help with your marketing efforts, please feel free to contact us.