An astounding 81% of consumers trust their friends and family's advice over advice from a business. Today, we trust friends, family, colleagues and look to third party review sites to help us choose the businesses we patronize, the software we buy, legal services we obtain, contractors we employ and so on. Acquisition is getting harder and marketing is getting more expensive.
Where are the best growth opportunities for your business and how do you build on those areas and engage the consumer?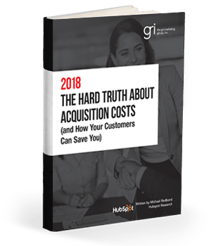 Take a minute to download this free research report – The Hard Truth About Acquisition Costs which identifies trends, challenges, and ways to help marketing and sales achieve their goals.